Uisghe Beatha The Water of Life
It was my father who first introduced me to this most noble drink; this water of life that lifts life out of the ordinary. As time progressed, I began to understand why the pre-caffeinated Celts in their canniness invented this fermented and distilled wonder.
Quickly I realised that I was drwn to the salty peaty quirkiness of the malts of Islay, especially those of Laphroaig. However, I have taken great delight in the pleasures of Caol Isla also, not to mention Lagavulin. I've even been known to like an Ardbeg. Look at these mighty still at Laphroaig and marvel at the generosity of the Scots in sharing it with us!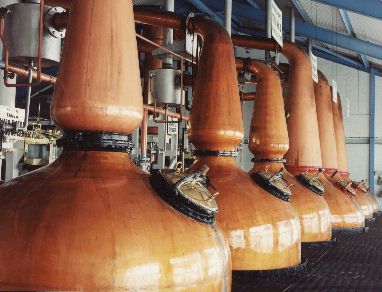 I have also developed an appreciation of the softer flavours of the Lowlands, and particularly enjoy an Auchentoshan from time to time. The herbal qualities of the Highlands and the saltiness of the Islands also appeal, as indeed does the clarity of the Speyside distilleries. But single malts are not the only quality produced in Scotland, and I frequently drink of the blended genteelness that is a Hanky Bannister
And if you are looking in Auckalnd for a fine whisky, may I recommend that you wander into the Elliott Stables in Elliott Street in the central city and go no farther that The Whisky Shop and its kind proprietors.